Costa Rica is an intriguing location since it contains five percent of the world's total biodiversity. A plethora of natural wonders may be found here, from airy cloud forests to the pounding waves of the Pacific Ocean, among others.
A once-in-a-lifetime vacation for many, it offers the opportunity to explore a variety of diverse microclimates while also spotting exotic and endangered jungle wildlife. And what is the most effective method of processing all of these vivid memories? A relaxing day or two at the beach is in order. Moreover, the beaches in this enthralling country are diverse — you'll find everything from rocky surf locations to white-sand Caribbean charmers here.
When it comes to discovering the best beaches in Costa Rica, here are a few spots to begin your journey.
Parque Nacional Manuel Antonio, Central Pacific Coast
The Parque Nacional Manuel Antonio, with its white-sand beaches and verdant jungle teeming with wildlife, is one of Costa Rica's most beautiful sites, as well as one of the country's most popular tourist destinations. This stretch of coastline is dominated by the rocky outcrop known as Punta Catedral, which juts out into the sea and provides an unlimited number of photo opportunities. Playa Manuel Antonio, sometimes known as Playa Tres, is the most scenic of the park's three beaches (with a fourth just outside the entry), the most popular of which is Playa Manuel Antonio. Swimmers will appreciate that it is the safest beach in the neighborhood, and snorkelers will appreciate the excellent snorkeling opportunities – head to the rocks at the end of the beach to witness a variety of marine life. On weekends, the beach is a popular destination for residents, so try to visit during the week if at all possible.
Getting There
Manuel Antonio National Park is a short drive south of the city of Quepos and is home to a variety of wildlife. Buses to the park leave from Quepos and San José on a daily basis. If you're arriving by car, there is additional paid parking available on the road leading to the park.
Where To Stay
Gaia Hotel and Reserve – This ultra-chic boutique hotel elevates the standards of style and service to an entirely new height. Stylish terraced suites and villas with natural flooring are equipped with enormous, cloud-soft beds, flat-screen televisions, and rainforest views, among other amenities. There are two pools, one of which cascades into the other, and you might easily spend your whole vacation eating at the superb restaurant, which offers a diverse menu and a wine list that travels the world. Breakfast and a complimentary treatment at the on-site spa are included in the room fee. There will be no under-13s.
What To Do
At Rainmaker Mountains, walk across the suspension bridges and explore the local flora and fauna. At the end of the tour, take a cool swim in a waterfall for some relaxation.
Islas Tortuga, Nicoya Peninsula
Islas Tortuga is the ultimate island refuge because it is uninhabited and (as of yet) pristine. The islands, which are made up of Isla Tolinga and Isla Alcatraz, are densely vegetated with picture-perfect golden sand beaches and bright turquoise sea, making them a popular tourist destination. Even the most jaded traveler will be able to crack a smile when they encounter them. The two beautiful beaches on Isla Tolinga are perfect for swimming, snorkeling, or simply relaxing and taking in the sights and sounds. Because there is no overnight accommodation on the island, guests arrive by boat for the day. During the week, the islands are generally placid; but, on weekends, boatloads of visitors arrive, detracting from the peace and quiet. If at all possible, avoid paying a visit on a weekend.
Getting There
The Islas Tortugas are a group of islands off the southern tip of the Nicoya Peninsula, near the town of Paquera, Costa Rica. Excursions depart twice daily from Paquera's Playa Curi beach area. Boat tours are also available from further afield, notably from the country's capital San José and the Pacific coastal towns of Jacó and Quepos on the country's central coast.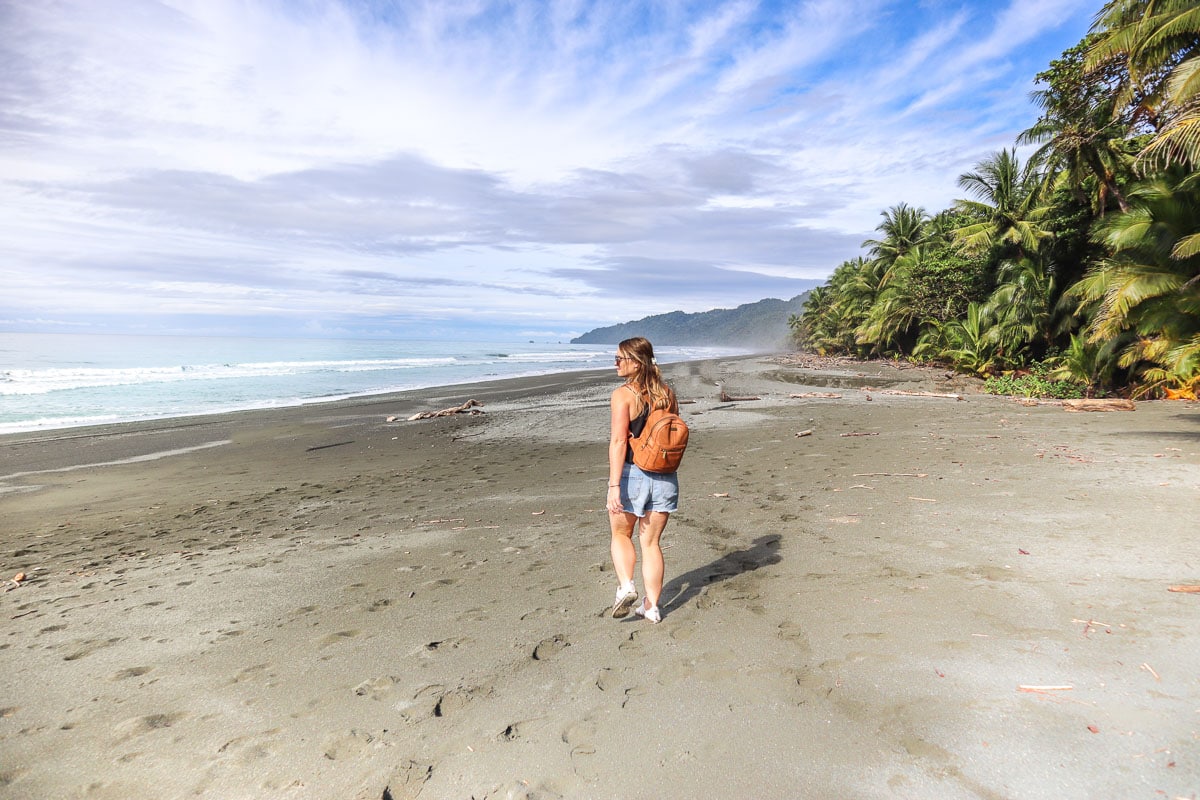 Punta Uva, Caribbean Coast
It's called Punta Uva, which translates to "grape point," and if you could get a bird's eye view of the scenery (or hop onboard a drone), you'd notice that the name was perfectly appropriate for the location. Punta Uva beach, located to the west of the point, is one of the few spots in Costa Rica where you can swim to a coral reef that is great for snorkeling and is within swimming distance of the coast. Playa Grande, to the east, contains palm palms in the classic Caribbean manner, although the water here is rougher and less appropriate for swimming than the other beaches. If you're lucky, you might be able to spot a green macaw, which is a rare bird in this area. Since 2011, the Ara Project in Manzanillo, which is close by, has been breeding and releasing critically endangered birds.
Getting There
Located in Limón Province, just south of Playa Chiquita off Highway-256, Punta Uva is a little fishing village before the town of Manzanillo. The bus that runs between Puerto Limón and Manzanilla makes several stops along the way.
Playa Hermosa, Puntarenas
Because Costa Rica has numerous beaches with the name Playa Hermosa (beautiful beach), it's always a good idea to double-check that you're on the right track. This specific Hermosa is a six-mile-long (10-kilometer-long) strip of dark grey sand just south of the town of Jaco, and it is considered one of the best surf beaches in Central America, especially during the rainy season, according to locals (May to August). Waves break near to shore because to steep sandbars out to sea, creating a regular challenge for surfers of all skill levels and abilities. This area is subject to high rip tides and is therefore not recommended for swimming. Also, unless you're already confident in your surfing abilities, this is not the best location for surf instruction. In contrast, for those who have a little more experience, you can almost ensure yourself a memorable day on the water. On Friday and Saturday afternoons, during the Backyard Surf Series competition, spectators may sit back and enjoy the action from the comfort of their own homes or offices.
Getting There
Buses run from Jacó to Quepos and return every day, with a stop at Playa Hermosa on the way to and from the airport. There are several options for getting there from Jacó, including taxis or driving and parking.
Where to Stay
The Backyard Beachfront Hotel – This beachfront hotel is a favorite choice for surfers with a lot of money. The bright and airy rooms in this hotel offer air conditioning, televisions, and toilets. You may swim laps in the pool, which is right outside your balcony, have a good time at the popular bar and restaurant next door (see below), and take advantage of one of Hermosa's top surf breaks, which is right outside your door.
What to Do
In Jaco, you may embark on an adventure that includes ziplining through the forest and driving an ATV through muddy terrain and rivers.
Refugio Nacional de Vida Silvestre Ostional
The coffee-colored beach at Ostional is one of the most important nesting places in Costa Rica for the olive ridley turtle, which makes it one of the most important nesting sites in the world. Female olive ridley turtles return en masse to their birthplaces in September and October to lay eggs, a process is known as arrabida, or arrival, which means "returning in large numbers." Thousands upon thousands of turtles climb out of the surf and onto dry land to deposit their eggs during each arrabida, which can last up to 12 hours. During this period, as many as 11 million eggs are laid per day. Seeing wildlife in its natural environment is one of the most popular reasons for people to travel. If that describes you, you'll be blown away by the annual extravaganza. The beach at Ostional is not recommended for swimming, especially during the nesting season. Sharks may be attracted to the area due to a large number of turtles present.
Getting There
Ostional is located in the province of Guanacaste, about 15 minutes by vehicle from the village of Nosara, Costa Rica. It's important to note that there is no organized taxi service or regular public transportation in the neighborhood.
Where to Stay
Hotel Boutique Lagarta Lodge – Located on the outskirts of the Reserva Biológica Nosara (see photo below), southwest of the settlement, this high-end lodge offers superb birdwatching opportunities as well as breathtaking coastal views.
The contemporary en suites located above the pool and overlooking the ocean offer one of the most spectacular views in the country.
There's a spa on site, as well as a fantastic restaurant-bar, and they can also assist you in arranging a car or transportation to Ostional.