Fantastic Fukuoka Travel Attractions
6 min read
Fukuoka is one of Japan's top travel destinations, boasting ancient temples and shrines alongside its modern cosmopolitan vibe that you won't want to miss.
Before anything else, don't miss a visit to Fukuoka Castle. Explore the remains of this 17th-century fortress and enjoy stunning cherry blossom displays each spring. You can opt for several flights to Fukuoka from Cathay Pacific so why not visit all?
Tocho-ji Temple
Tocho-ji Temple is one of the most prominent Shingon Buddhist temples in Fukuoka and certainly worth a visit. Its main draw is its enormous Buddha statue – Japan's largest wooden seated Buddha! Construction on this giant statue began back in 1988 and took four years to complete.
In 806 the Buddhist priest Kukai (Kobo Daishi) returned from China and built the Tochoji temple, which is said to symbolize his desire for Buddhism to spread from Fukuoka in the West to Fukuoka in the East. As its name implies, Kukai intended the temple to reach far into Asia as a symbol of his wishes for Buddhism to spread throughout East Asia.
At Tocho-ji, the main attractions include the Great Buddha of Fukuoka, a five story pagoda and hell paradise experience. This wooden seated Buddha is said to be Japan's largest and one of the most beautiful in all of Japan.
Another notable landmark is the 87cm tall Senju Kannon Bosatsu, a wood statue from the Heian era that is designated a National Treasure and can only be viewed once annually at its home in the temple storehouse. It's an exquisite example of Japanese craftsmanship.
If you're searching for an unforgettable experience, check out the temple's Rokkakudo. This hut-contained Buddhist sanctum contains rotating bookcases filled with sutra – providing a karma shortcut that gives the same amount of karma as reading all of these sacred writings inside the bookcase.
The temple's most striking feature is its 5 story pagoda, built in 2011. Its vibrant red color and wooden construction truly stand out.
Tocho-ji is home to the "Rokkakudo" sanctum, built in 1842 and featuring a hexagonal shape. The six entrance doors are decorated with paintings and calligraphy artworks.
To the left of Rokkakudo there is a 5-story pagoda built out of cypress trees that was the tallest building in Kyushu.
Tocho-ji also features many clothed statues representing Jizo Bosatsu, a Japanese divinity who protects children who pass away before their parents do. As grieving mothers wrap the statues in warm clothes in anticipation that Jizo will protect their lost ones from the cold afterlife.
Hakata Machiya Folk Museum
The Hakata Machiya Folk Museum is an excellent way to learn more about Fukuoka's culture and admire many traditional artifacts. Situated across from Kushida Shrine, it's one of the few remaining Meiji-era buildings in the city.
It features an exhibition hall with several dioramas and an old-style town house. Additionally, they have a heritage workshop where visitors can try their hand at making Hakata dolls and painting.
At this location, you'll find displays showcasing local festivals and traditional crafts. Plus, you can enjoy a Hakata dialect lecture or watch the famed Yamakasa summer festival firsthand!
If you're a fan of Japanese museums, this one is worth visiting. It features both traditional and modern artworks with friendly staff to match. Plus, the collection of artworks is impressive!
Another feature I really appreciated about this museum is the garden in the back, where you can sit and take in views of the city. There's also a small teahouse where you can buy snacks and drinks. Although it's a bit of a drive out of town, it's well worth it!
Visiting this museum is an excellent opportunity to gain insight into Hakata's history and culture, especially during its beloved Yamakasa festival that draws thousands of visitors annually. Additionally, you can listen to a Hakata dialect lecture and view a miniature town.
Be sure to visit the Machiya wing of this museum, a stunning building that was once home to a textile weaver during the Meiji era. A must-see for those interested in traditional Japanese architecture and you can even take part in an engaging free weaving experience here!
The museum also has a small Japanese garden that's worth taking time to admire. While not as expansive as some of Kyoto's gardens, this one is still stunningly picturesque nonetheless.
This charming museum houses an intriguing mix of ancient artefacts and contemporary displays. It's the perfect place for an hour or so, and the Y=200 admission price point makes it a worthwhile visit.
Ohori Park
Ohori Park, situated in the city center of Fukuoka City, is a beloved spot for citizens to unwind and appreciate the natural landscape surrounding a pond. Not only does it become an excellent running and walking track year round; but it also features an art museum, Japanese garden, and Noh theater.
Joggers will enjoy the park's circular shape and its large pond with three islands connected by bridges for an idyllic scene. At the south end of the property is a classical Japanese garden complete with traditional teahouse.
Entrance to this stunning garden requires a small fee, but the experience is well worth it. The walls and large hills of the garden block out much of the noise from nearby cities, while its many waterfalls add to its tranquillity.
Another popular attraction here is the Fukuoka Art Museum, boasting an impressive collection of artworks by renowned artists like Dali and Miro. Additionally, visitors can explore works from Kyushu and Japanese culture at this stunning institution.
Visitors to the Fukuoka Art Museum should also explore its nearby Japanese garden, featuring numerous zen-like features. Although there is a nominal entry fee for this attraction, visitors are sure to enjoy an enchanting experience.
In wintertime, Ohori Park Pond is illuminated with LED lights for an inviting sight. It makes a perfect location to enjoy a romantic night out and there are also seasonal events held there.
Ohori Park is renowned for its spectacular fireworks show during the summer season. Hosted by hundreds of thousands of people annually, this spectacle draws hundreds of thousands to experience one of Tokyo's most thrilling displays.
While in Ohori Park, don't miss taking a stroll down to Fukuoka Castle Ruins (Fu Gang Cheng Ji). This ancient structure is a National Historic Site and considered one of Japan's top 100 castles.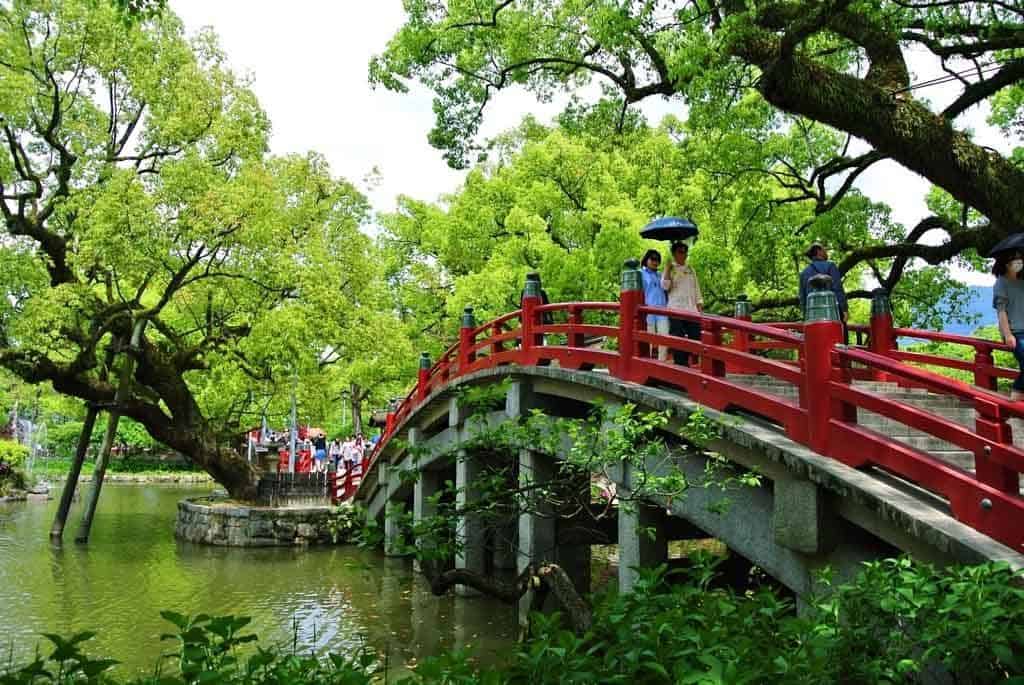 Ohori Park is an idyllic destination to relax, boasting numerous restaurants and cafes within its boundaries. You can even rent a swan-shaped paddle boat to explore the pond.
Fukuoka Tower
Fukuoka Tower is one of the iconic sights in Fukuoka, standing at 234 metres tall and representing one of Japan's highest seaside towers – representing Seaside Momochi district on Hakata Bay. Clad in over 8000 one-way mirrors, this three-story observation deck provides breathtaking panoramic views of both city and bay from its 123 meter high observation deck.
On the west coast of the city, the Tower is an amazing feat of engineering and design. With its triangular cross-section and proximity to the ocean, it was constructed to withstand extreme scenarios like earthquakes or winds.
At 234 metres tall, the tower is one of Japan's tallest structures and can be seen from most parts of the city – including Canal City Hakata shopping mall. It also provides a magnificent spot to watch the sun set over the horizon.
At night, the Tower is illuminated with stunning artistic illuminations, creating a mesmerizing spectacle. These displays change throughout the year to commemorate major holidays like Christmas or other major celebrations.
When visiting the Tower, try to arrive before sunset for an unforgettable sight. You can spend hours admiring its majestic tower as the lights illuminate around it in stunning beauty.
When planning your visit, there are a few things to remember: The Tower is open all day and night, so make sure you plan accordingly. Allow yourself an hour for exploring the area and taking in its sights; therefore, expect to stay for some time.
The tower's observation deck provides breathtaking views of the city and bay, making it a great spot for eating or taking photos as the sun sets.
While in the area, be sure to visit Daimyo – a pedestrian-only shopping arcade filled with boutiques and retro stores. Here, you can find an array of brands from Japanese fashion to Western favorites.